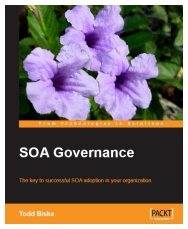 I've written my first book titled "SOA Governance"  and I am now happy to say that it is available from my publisher, Packt Publishing, as well as Amazon, Barnes and Noble, and many other online bookstores. 
If you've followed this blog, you'll know that my take on SOA governance is that it's all about using people, policies, and process to achieve a desired behavior, and that same theme carries through the book, showing how it applies to all aspects of your SOA efforts, ranging from project governance, to run-time governance, and finally to what I call pre-project governance.
The style of the book is inspired by the great books of Patrick Lencioni, including Five Dysfunctions of a Team, Death by Meeting, and Silos, Politics and Turf Wars. In it, he presents a fable that illustrates the concepts and points. In my book, I present the story of a fictitious company, Advasco, and their journey in adopting SOA. Along the way, the book analyzes the actions of Advasco and the role of SOA governance in the journey.
Please check it out, and feel free to send me your feedback or questions. I hope it helps you in your SOA efforts.
One Response to "My Book"