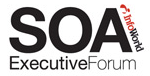 I had the opportunity to meet Eric Newcomer, CTO of IONA, at the InfoWorld SOA Executive Forum last week. He recently blogged about some of their interchanges we've had on a Yahoo SOA group as well as the things he heard from end users at the forum.
What Eric points out is that "Vendor suspicion runs very high." He goes on to say, "I think it was someone on the SOA discussion list who said that IT vendors today are like going to an automobile dealer and having the dealer tell you what kind of car you want to buy."
First, I commend Eric for posting this, since he is, after all, a vendor. Just as Eric has called on all vendors to rethink how they're working with their customers, I encourage all end users to rethink how they're working with their vendors. It's a two way street. Vendors can only work from the information that their end users give them. If you want better products, let your vendors know. The ones I've spoken with would love it if they had more interaction from their customers. Try asking them for a corporate visit, or a phone call with the product manager for your solutions. I bet they'd be more than happy to accommodate your request.
Another person I had the opportunity to get some face time with is Miko Matsumura, VP of Marketing and Technology Standards for Infravio, as well as the Chair for the OASIS SOA Adoption Blueprints Technical Committee. We had a good chat about SOA governance, as well as discussed some upcoming things for the committee. What's great about what Miko's trying to do through OASIS is the fact that it is adoption blueprints. This isn't some vendor's reference model intended to sell product, this is a set of blueprints rooted in the experiences of the end user community. I would love to see end user participation increase on this TC, as it will only increase the quality of the deliverables and help us all with our SOA adoption efforts.
Thanks again to InfoWorld for putting on a great event. In addition to Eric and Miko, I also chatted with/met Jeff Schneider and Hjalmer Danielson of MomentumSI (thanks for the t-shirt), David Chappell of Sonic Software, David Linthicum of BridgeWerx (and the voice behind the SOA Expert Podcast), Andrew Nash of Reactivity, Phil Wainewright of ZDNet and LooselyCoupled.com, and Sean Fitts of AmberPoint. It was a great event.
One Response to "Calling all end users"