The first session I'm in is one of the few sessions by Troux staff at the conference, being given by Bill Cason, CTO of Troux. Always nice to see a CTO doing these things.
Bill went over the IT strategy planning process, involving the business, the office of the CIO, and enterprise architecture. There was a good slide that visually showed the process as Troux sees it that I'll try to get and repost here. Update: here's the slide: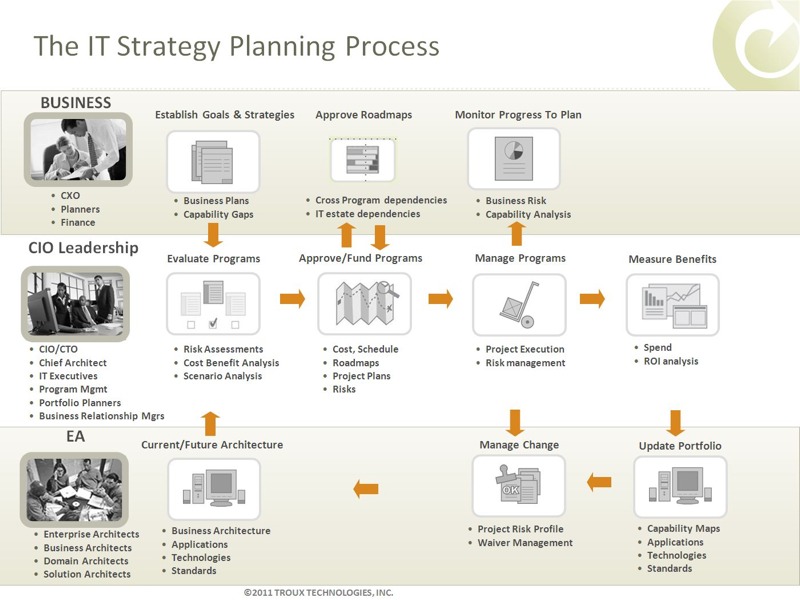 Early on, he emphasized the need to capture the business context in the forms of goals and strategies, as well as to have EA be the keeper of business capability maps, defined through collaboration with the business. These capability maps are what allow for fact-based conversations that aid the decision making process.
Bill's Top 10 things to do:
Help your boss. Their surveys show that most CIOs are managing strategy on their own.
Establish sustainable processes. Get sponsorship, establish stewardship, define all roles and establish them, and get agreement on governance and measures.
Involve the business
Understand how organizations think. IT thinks about IT assets and activities, the business thinks about business capabilities. The capability map must align the IT portfolio with the business capabilities.
Recognize what tools they use. Business has lots of manual methods, IT has some automation.
Establish business context. If you can't involve the business, at least try to understand their objectives.
Start with the business questions. What does the business want to do? Where should it transform? How are the transformations progressing?
Focus on key areas. "Burning platforms" M&A, divestitures, regulatory drivers, time to market. This helps focus the work and make it more digestible. Near time focus, grow scope over time.
Influence departmental behavior. Link business roadmaps to IT roadmaps, communicate the dependencies and impacts.
Be flexible. Executives will never use EA models.
One Response to "Troux 2011: How to Develop an IT Strategy to Accelerate Business Goals"