It's 4:03 p.m. here in the central time zone, and thanks to living near a rural community (although only 20-30 minutes from downtown St. Louis), I am NUMBER ONE in line to get my iPhone. Very cool. There's a total of four of us in line right now. Here's a picture.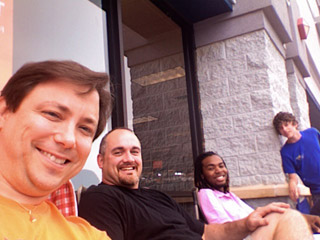 Update: It's 5:33 p.m. and we have a total of 7 people. It was quite funny when the police drove by as they had been informed to expect potentially large crowds. I feel no sympathy for the 100+ people waiting at the Apple store at the mall…
Update number two: I am editing this from my iPhone! Cool!